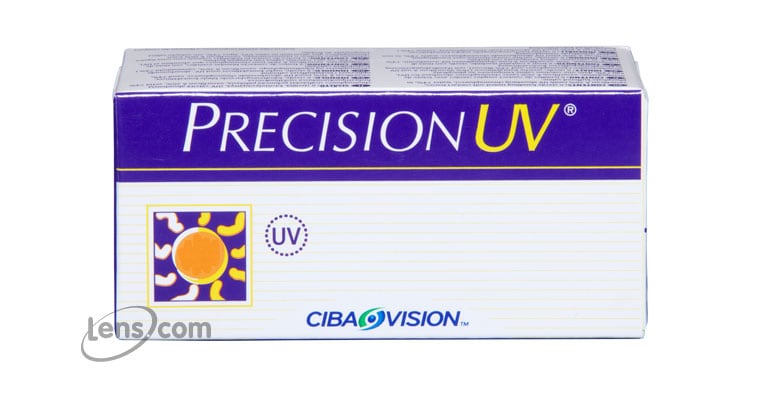 Buy More Save More
$30.99 per box
when you buy 4+ per eye
Product Details
Product Information:
Ciba Vision Precision UV contacts combine a comfortable and convenient design with UV protection that blocks 90% of harmful ultra-violet rays, more than most comparable contact lenses can provide. They are ideal for outdoor enthusiasts and nature lovers of all types. In the same way UV rays penetrate the earth's atmosphere and damages unprotected skin over time, harmful UV rays also pose a risk for unprotected eyes. The longer you spend outside, the higher your risk for dangerous UV exposure. The Precision UV's protection lasts just as long as you can, even on your longest outdoor adventures.
Precision UV contact lenses are 1-2 week disposable contact lenses. Though they're disposable, they have thicker, more durable material and better UV protection than comparable disposables. They are tinted for ease of handling and locating when submerged in solution, but the tint will not change your natural eye color.
Lens.com has been providing the exact same Precision UV contacts as prescribed by your eye doctor since 1995. Take advantage of our discount prices and order your Precision UV contact lenses today!
FSA Eligible
What is a Flexible Spending Account?
A Flexible Spending Account is a fund which allows you to pay for eligible medical expenses with pre-tax money. Doctor office co-pays, bandages, contact lenses, contact lens solution, etc. are eligible expenses. Many employers include the option of a Flexible Spending Account with their benefit package.

Use it or lose it!
Flexible Spending money must be used by a specific date set by your provider.* If the funds are not used by this specified date, all remaining money is lost.
Here are some tips to make sure this doesn't happen to you:
Talk to your company or provider about enrollment and expiration dates.
Track your exact balance throughout the year.
Don't wait until the last minute. Last minute purchases run the risk that they will not be eligible for reimbursement.